Our mission here at Pinnacle is simple: To showcase the "golden age" of rap music. To that end, we've gathered together some examples of the best (in our humble opinion) M.C.'s, producers, and record labels. We move forward everyday, playing the hot tracks you remember and the gems that may have been forgotten over time. We believe this music played an integral part in shaping the American cultural landscape. The African tradition of verbal story telling lives on in modern rap as the voices of urban youth, disenfranchised minorities, and social activism are given a platform to create and express freely.
In the last 40 years, rap music has seen a fundamental shift in popularity as hip hop culture has seen a rise in commercial success. However, while it's easy to get caught up in the bright lights of global acceptance at the surface, it's also easy to forget the individuals who helped establish hip hop as more than "just a passing fad".
"Artist Spotlight", is our way of drawing, well deserved, attention to these individuals. Every month will be dedicated to a "Featured Artist". The feature could be a single person, a group or clique, a DJ or production group. Along with a highlight on Pinnaclehiphop.com, each artist will receive heavy representation on all of our platforms and increased rotation on the station.
We love rap music. Period. We fully believe the pioneers and proponents of the art deserve to remain relevant to its supporters and to the conversation in general. So check with us every month. I guarantee this section will include some standards, unexpected favorites, worthy nominees for any serious "G.O.A.T." debate, as well a few surprises. Tune in. Join us as we celebrate the artists that helped pave the way and had the greatest impact on hip hop as a cultural juggernaut.
I'm Big H.
And this is…
"Artist Spotlight"
THIS MONTHS ARTIST SPOTLIGHT IS: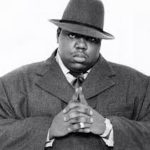 THE NOTORIOUS BIG
In the early morning hours of March 9, 1997, the hip hop world was rocked by the passing of Christopher Wallace, A.K.A. The Notorious B.I.G.
Born and raised in the Brooklyn borough of NYC, Biggie met his untimely demise at the young age of 24 in Los Angeles, CA.
Wallace came of age on the streets of Bedford-Stuyvesant and spent much of his short career rapping about the hustles and everyday struggles of his neighborhood. As a teenager, Big began spittin' over break beats to entertain people on the block. "It was fun just hearing myself on tape over beats", he said in an interview for Arista Records. Biggie actually had no serious intention of pursuing a music career. However, when a quickly recorded demo tape found its way to the offices of The Source magazine, a path into history was set for the notorious one. In March 1992, The Source's "Unsigned Hype" column featured The Hitman 50 Grand, a local DJ and neighborhood favorite Biggie Smalls. He eventually gained the attention of Sean "Puffy" "Puff Daddy" "P.Diddy" "Diddy" "Sean John" "Brother Love" Combs and joined the fledgling Bad Boy record label in mid 1992.
Biggie's debut album, "Ready to Die", was released in September 1994 and is hailed as a masterpiece by many hip hop heads all over the world. The quadruple platinum album produced chart busters such as "Juicy and "Big Poppa", establishing Big as a master story teller and word smith. The Source included it on their "100 Best Albums of All Time" and gave it renewed rating of 5 mics in 2002.
"Life After Death", Wallace's eerily titled sophomore album was released March 25, 1997, two weeks after his murder in L.A. The double CD was nominated for 3 Grammies in 1998 and featured guest appearances from damn near everybody. Jay-Z, Lil' Kim, Ma$e, The Lox, Bone Thugs-N-Harmony, Darryl McDaniels of Run D.M.C., Puff Daddy (I think that was his name at the time), Too $hort, and others. This prophetic album featured songs that made us cringe when we first heard them: "You're Nobody (Till Somebody Kills You)", "My Downfall", and "Going Back to Cali". At the same time, we were reminded what the world actually lost when songs like "Hypnotize", "Mo Money, Mo Problems", and "Notorious Thugs" blew up the charts, banging in trunks and headphones all over the country. In 2000, "Life After Death" was certified as a Diamond selling album and continues to be one of the most influential albums in the genre.
When the idea for this segment was being kicked around, there was no mystery about who was going to start it all off. The soundtrack for my mid-nineties life consisted of 3 albums: "Doggystyle", "E.1999 Eternal", and "Ready to Die". I knew this guy was special. At a time when west coast swing dominated the air waves, Biggie came and re-introduced me to Brooklyn with a swagger and grit that no one could fake or mimic. I'm a big guy myself, so to see a big dude with charm, style, and crazy mic skills was intoxicating. Still is. I was mad when 2PAc died, but I was devastated when Big left.
It is my honor to place the Spotlight on Pinnacle's first Artist of the Month:
The Notorious B.I.G.
Rest in Peace, "The sky is the limit…"
We wanted to get the next generation tuned in! Playin' those radio edit tracks to let those new listeners in on the sounds of true hip hop. We can censor the words…content is still the same though. Every Saturday 8-10AM Eastern Standard time!
---