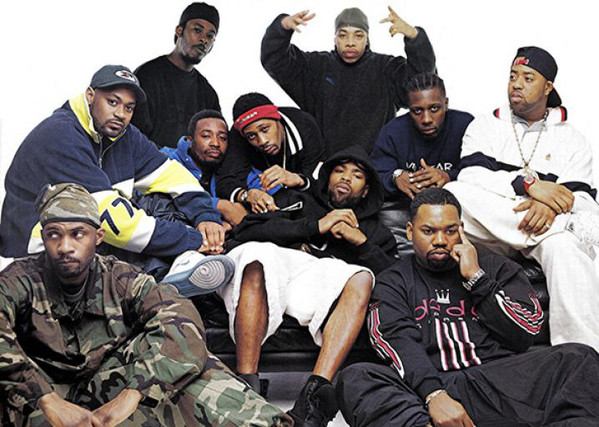 There's no denying that there are some majorly talented groups in the world of hip hop. OutKast, A Tribe Called Quest, Beastie Boys, just to name a few. But the Wu is on a different level. Wu, to me, is a super group. One that each individual artist is just as lyrical as the next which has been shown with their numerous solo albums. Not only do they collab well, but they can stand on their own. That, to me, is what makes Wu different. There have been many artists that have done solo albums that were in groups but very few groups are as widely successful with the number of members. Let's take a look at it.
Wu-Tang's original line up included RZA, GSA (Genius), Ol' Dirty Bastard, U-God, Ghostface Killah, Masta Killa, Method Man, Raekwon the Chef, Inspectah Deck and Cappadonna. Almost every single one of these artists can be found solo on our platform. Why? Because they have made bangin' hit after bangin' hit, even if they weren't commercially popular. Their sound, content and deliveries have been on point for years. Nevermind the multiple smashing albums they put together as a group.
RZA- aka: Bobby Digital, The Abbot, Prince Rakeem, RZArector, Bobby Boulders, The Crazy Monk, Ruler Zig-Zag-Zig-Allah & the Scientist. He's got a ton of AKA's but his sound is there. Not only can he lay down beats as a producer, but has vocals to go along with it.
GZA- aka: Genius. How many GZA albums do you own? Me? All of them. If you haven't picked up Liquid Swords or Beneath the Surface then you are missing out.
Ol' Dirty Bastard- aka: Ol' Dirty BZA, Ason Unique, Osirus, The Specialist, Dirt McGirt, Big Baby Jesus & Young Dirty. ODB had a very unique style, not just in delivery but lyrically. When he came on, you knew EXACTLY who it was. The hip hop world took a big "L" when he passed in 2004. RIP ODB.
U-God- aka: Golden Arms & Baby-U. Known for his rugged flow and bass-like voice, U-God is one of those hidden gems. With a total of 5 solo album releases, he's no stranger to the hip hop world and what it takes to make music.
Ghostface Killah- aka: Iroman, Tony Starks, Ghostdini, Pretty Toney & Starky Love. Talk about someone who can delivery a story. His lyrics dive deep into the subconscious making you feel every line.
Masta Killa- aka: Noodles 7 Jamal Arief. Masta was the last member to join Wu-Tang Clan and to release a solo album. Interestingly enough, he had never MC'd prior to joining the Wu. He was mentored by GZA to develop his laid back style of delivery.
Method Man- aka: Johnny Blaze, Hott Nikkels, Iron Lung, Tical, Shakwon, Ticallion Stallion, The Panty Raider, Johnny Dangerous, Blazini, MZA, Methical, Mef & Meth. By far, the most popular of the entire group. His gritty sound is synonymous with the Wu. Not only can he kill it with the Wu and as a solo artist, but his numerous features and team ups with the artist like Redman earn him his spot.
Raekwon- aka: The Chef, Lou Diamonds, Lex Diamonds & Shallah Raekwon. Another amazing storyteller of the group. His first solo album, Only Built 4 Cuban Linx, is off the charts.
Inspectah Deck- aka: The Rebel I.N.S. & Rollie Fingers. One of the original founding Wu members, Deck has been there since 1992. Deck pumps out some albums. 6 solo albums, 3 mix tapes and 5 other albums with a group called CZARFACE. That's a ton of studio time. Not to mention all of the features he's on.
Cappadonna- aka: Cappachino. Cappa has been with Wu since the beginning. He's often referred to as the "unofficial tenth member". He did a bid in the beginning of the groups formation but came out strong. 9 solo albums. That's a ton of writing!
With the number of hits that this group has accumulated over the years, both as a group and as solo artists, it's tough to not give them the number one spot as SUPREME GROUP RULER OF THE UNIVERSE or whatever you want to call them. All I know is that for a group of 10 people to make hits after hits since 1992, there's something special about those guys.